COVID-19 And The Deadly Cold Months
COVID-19 and Christmas parties: staying safe informs how to reduce the risk of Covid-19 virus infection. As well as protect others during in-person holiday parties.
The fact is that the COVID-19 pandemic has been stressful, with initial frustration worsened by the new coronavirus variant. Therefore, it's important during these festive holidays to adapt your plans to limit the spread of COVID-19. By doing this, you will be keeping your friends, families, and the public healthy and safe.
Furthermore, with concerns over the new variant, this article, COVID-19 and Christmas parties: staying safe, suggests ways to help you stay safe whether you are planning or attending Christmas parties.
Virtual Partying Or With Members Of Your Household
Virtual partying or with members of your own household poses the lowest risk for spread. The definition of your household is anyone who presently lives and shares common spaces in your house or apartment. So, this arrangement includes family members and people who are unrelated to you.
On the other hand, people who don't live presently in your house or apartment, such as college students returning home for the holidays, are considered part of different households. This means that in-person parties that bring together family members or friends from different households pose varying levels of risk.
Remember that college students who travel to visit family or friends should be thought of as overnight guests. Hence, they and their hosts should follow all safety guidelines for overnight guests to protect themselves for the duration of the visit.
Postpone Travels And Stay At Home
It is highly likely travel may increase your chance of getting and spreading COVID-19. As such, postponing travel and staying at home is the best way to protect yourself and others during this pandemic.
However, if you opt to travel, testing can help you do so more safely. Though testing doesn't remove all risk, it can help make travel safer. Nonetheless, it's important to talk with the people you live with and your family and friends about the risks of traveling. If you have concerns about the risks of travelling, you should think about making other plans. For instance, hosting a virtual party or delaying your travel are safer choices.
Ways To Reduce Virus Spread During Small Parties
If you decide to organise or attend a party, you should consider the risk of virus spread based on the number of attendees. And then take several steps to limit the spread of the COVID-19 virus. These tips will help reduce the risk of infecting others or being infected.
Keep a safe distance
At the event, reduce close contact with others outside of your household. Avoid gathering closely around one table. Better still, if there are multiple tables or seating areas, this arrangement will allow people from different households to be at least two arm's length apart. Also, stay away from busy eating areas or restrooms. And instead of hugging or bumping elbows, wave or verbally greet others.
Wear a mask
Keep masks on when you are around people who don't live in your household, except when eating or drinking.
Encourage proper hygiene
Make sure everyone washes hands or uses hand sanitiser before and after preparing, serving, and eating food. If you're the host, provide plenty of soap and single-use towels or paper towels in the kitchen and bathroom.
Promote safety around food and drinks
Limit people going in and out of areas where food is being prepared. And avoid self-serve food or drink options, such as buffets or drink stations. Alternatively, you may even encourage guests to bring food and drinks for themselves and members of their households only.
It's better to have one person serve all the food and sharable items, such as salad dressing or condiments. Or provide single servings of food and condiments.
Wear a mask if you're preparing or serving food to people outside of your household. You may want to reflect on using disposable plates, utensils, and cups for guests. Lastly, wash and disinfect any reusable items, such as cloth napkins and tablecloths, after the party.
Limit contact with commonly touched surfaces
Clean and disinfect commonly touched surfaces and shared items between uses. Provide or use touchless garbage cans, if available. Wear gloves when disposing of trash.
Encourage guests to avoid singing or shouting when indoors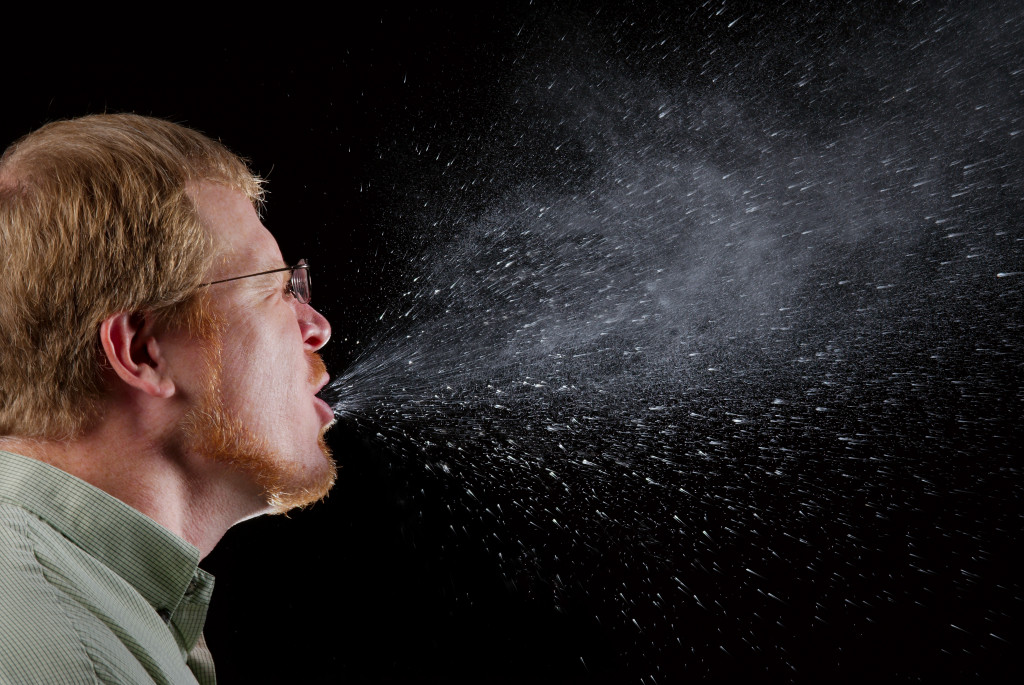 Avoid singing, chanting, or shouting, especially when not wearing a mask and within 6 feet of others. Keep music levels down so people don't have to shout or speak loudly to be heard.
Allow ventilation into the room
You can allow some air into the room by opening windows and doors, or by placing central air and heating on continuous circulation.
Keep pets away
Treat pets as you would other human family members. In other words, don't let pets interact with people outside the household.
Consider outdoor parties
Although, it's better to host outdoor rather than indoor gatherings as much as possible. Even outdoors, require guests to wear masks when not eating or drinking. Other rules for preventing the spread of the virus also apply such as physical distancing, no singing or shouting, washing of hands, and so on.
Make safety priority
In the end, the more of these prevention measures that you put in place, the safer your party will be. Since there is no single measure enough to prevent the spread of COVID-19.
What To Do If Exposed To Covid-19 During A Christmas Party
If you are exposed to COVID-19 at a holiday party, while traveling, or at any time, quarantine yourself to protect others and do the following:
Get tested for COVID-19. Even if you test negative for COVID-19 or feel healthy, you should still stay home for 14 days after your last contact with a person who has COVID-19.
Stay at home for 14 days.
Stay away from others, particularly those at increased risk for severe illness from COVID-19.
Look out for fever (100.4°F or higher), cough, shortness of breath, or other symptoms of COVID-19.
Wash with soap and water for at least 20 seconds or use a hand sanitiser that contains at least 60% alcohol.
Monitor yourself and your household members for symptoms of COVID-19.
Bottom Line
Christmas festivities this year will involve extra planning to prevent further the spread of the COVID-19 virus. This is because households have the highest risk setting for transmission of COVID-19. In other words, if someone is infected, those around have under 20% chance of them catching the virus. But by taking safety precautions, you will be helping your family and friends to celebrate while minimising the risk of getting infected or infecting others.
Finally, the major message of COVID-19 and Christmas parties: staying safe is to avoid activities that have higher risks of spread. Instead, consider fun alternatives that pose lower risks of COVID-19. And since travel also increases the chances of getting and spreading the COVID-19 virus, staying at home is the best way to protect yourself and others.
Photo credit: Creative Commons
https://www.mayoclinic.org/diseases-conditions/coronavirus/in-depth/covid-19-holiday-safety-tips/art-20503363
https://www.cdc.gov/coronavirus/2019-ncov/daily-life-coping/holidays.html